Audi ABB FIA Formula E team principal Allan McNish says his squad will be on "maximum attack" in New York to try and overturn DS Techeetah's lead in both championships.
Jean-Eric Vergne heads to this weekend's double-header season finale with a 32-point lead over Audi driver Lucas di Grassi, while German manufacturer's other driver – Daniel Abt – is the lowest-placed driver still in mathematical contention for the title, 55 points behind Vergne.
Audi is also 43 points behind DS Techeetah in the teams' championship – a prize Audi won by just two points over the same rival last season.
After a difficult event last time out in Bern – particularly for di Grassi, who qualified 19th before battling back to finish in the lower points paying positions – McNish explained his team's mentality for the season finale.
"For us it's quite clear – we're in the fight," he told Autosport.
"They've got a very good chance – one hand on the trophy – but until you're actually picking up the trophy, I think they know that [it's not over].
"From our point of view, we go there on maximum attack. That's simply it. There's no other option."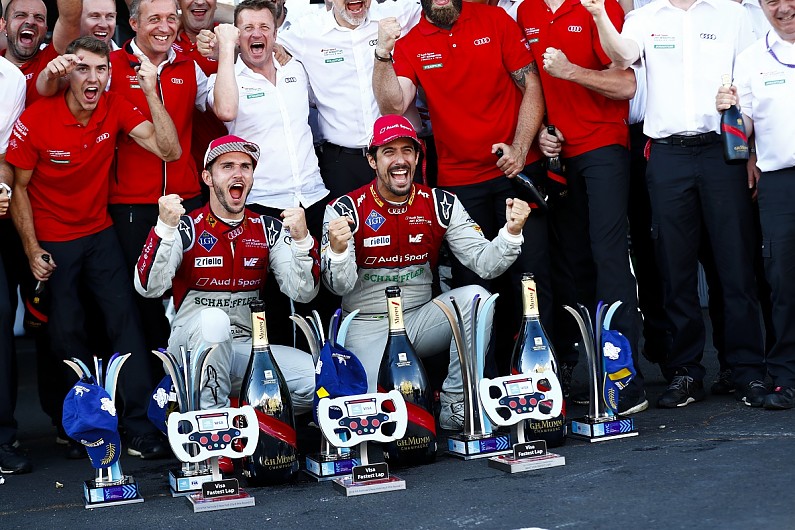 Audi enjoyed considerable success in New York last season, as it took a one-two in the first race and di Grassi finished as runner-up to Vergne in the second.
Its points haul in the final race was enough to overhaul Techeetah – then a Renault customer privateer squad – in the 2017/18 teams' standings.
Di Grassi also managed to grab second place in that season's final drivers' standings, but arrived at the event with no chance of sealing the title, which Vergne went on to claim.
This time, the 2016/17 FE champion is in contention for the drivers' title, but concedes he needs a major turnaround to have any chance of stopping his rival.
"We need a small miracle but the pressure's on JEV," di Grassi told Autosport.
"We'll go there with less pressure – try to win both races. And if something happens [with Vergne], you never know with Formula E.
"Maybe the gods of Formula E play their rules and we have a chance of winning."