W Series race winner Jamie Chadwick and runner-up Alice Powell both say they struggled with a gearbox problem when downshifting in the opening race of the season at Hockenheim.
Chadwick, who won the race to complete a dominant opening weekend in the series, complained of a gearbox problem over team radio when she crossed the line.
At Turn 1 on the opening lap she locked up and lost the lead to Powell, retaking it after a brief safety car period.
"It's something I've discovered a little bit [this weekend]," said Chadwick.
"Sometimes you have an issue where you lock the front and the rear and obviously when you lock the rear tyres, it's really hard to get the downshifts engaged and get the car down the gearbox.
"When you're not getting the downshift, you're not getting the engine braking, so when you go into the corner you have to brake a bit more and that causes front locking.
"I believe we were both suffering with it so it's something to look at with the engineers definitely, but it might just be something to manage a bit better and I feel like Marta [Garcia, who finished third] managed it better."
Of the Turn 1 incident, Chadwick added: "I got a good start and was away and gone in the lead and then I went down to Turn 6 and went to brake what I thought was early – but yeah, nearly went and ended up in Berlin or something!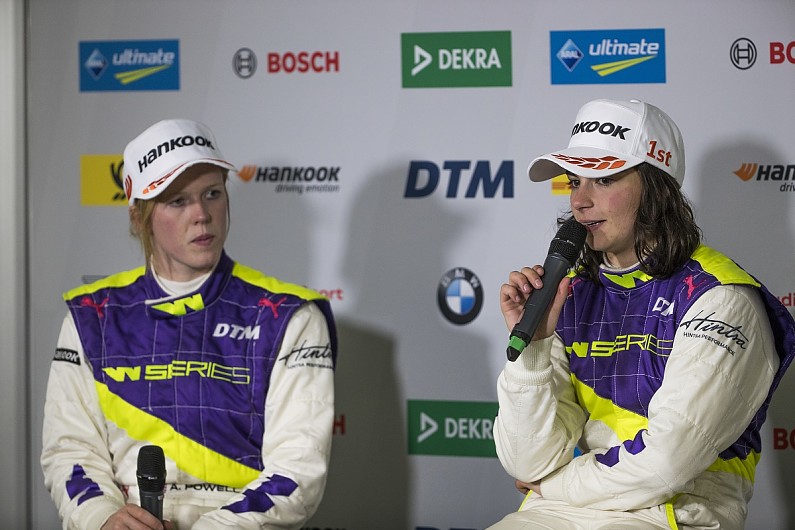 "I was nursing the car a little bit and I couldn't get down the gears – so yeah I think I was just pushing too much on the track with conditions the way that they were."
Powell, who spent the second half of the race defending a challenge for second place from Garcia said: "I saw that Marta was coming behind and she was very strong coming through turns six and eight which is where I was struggling the most to get the car down through the gears.
"I don't think it's a problem in general. [Maybe it was] the wet setting we were on and I don't know what Marta was running.
"Jamie and I were struggling over the bumps: maybe it was our braking point, you struggle to shift down and it jolts forwards so you have to release the brake to get it to go down – but we both seemed to cope with it quite well.
"I haven't spoken to many other drivers about it but I mentioned it in my debrief."
Garcia said that while she had found it difficult to downshift in some corners, she had not suffered as much of a problem with the issue as Chadwick and Powell.
Sarah Moore, who led the race briefly prior to the safety car before dropping down to fifth following the restart where she ran wide at the hairpin, also said she had not experienced any issues with the car.
"I had no issues at all this weekend, the only issues I've had has been with the tyres going off really.
"Other than that, it's been my own personal errors.
"The car has been fantastic, I can't fault it and hopefully it continues."
All of the drivers will change cars – as well as engineers and mechanics – for the next round at Zolder, which will be decided in a "random reallocation" process.