Lotus F1 junior Alexander Albon and 2014 McLaren AUTOSPORT BRDC Award winner George Russell have pledged to build on their breakthrough weekends in the Formula 3 European Championship at Norisring.
London-born Thai Albon described his runner-up position after leading most of race two as "probably the worst second place you can ever get – it hurts."
Albon had taken two pole positions – the first in F3 for the returning Signature team since Marco Wittmann at the 2011 Macau Grand Prix – but failed to win any races.
His second race unravelled due to continuous safety-car interruptions, having once held a lead nearing two seconds.
One lap after the final restart, a three-abreast run into Turn 1 ended in Albon, Russell and Charles Leclerc all running wide, allowing Maximilian Gunther to win.
"I was managing the tyres, but every time I pulled a gap I would get it taken away," said Albon.
"I was feeling quite good on the restarts, and I kept jumping him [Russell] earlier than he'd expect," said Albon. "But each time he was getting better and better.
"The last one was really close; I tried to open up the corner and get a good exit, but it didn't work."
After race three, in which he finished third, he added: "We've had probably the most competitive car this weekend – really quick from the start."
RUSSELL BREAKS QUALIFYING JINX
Although he won at the Silverstone opener, Russell had struggled to qualify near the front of the grid.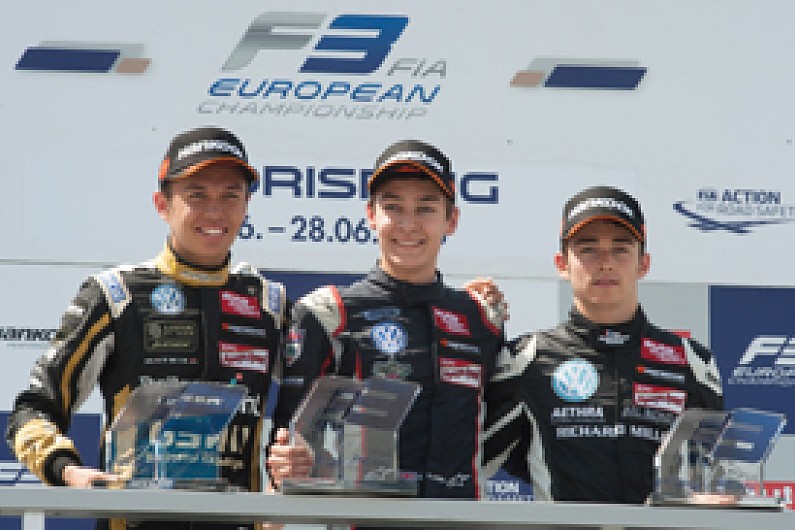 He had overheating brakes in the first session at the Norisring, but topped his group in second qualifying, earning himself second on the grid for races two and three.
"This time I went out early and banged in the laps, and that's been the problem all year," said the Carlin driver, right on the race three rookie podium with Albon and Charles Leclerc.
"We've always had the potential and the speed, but we've never put it together, and the last few races we've been starting way out of position. So much has happened so we really deserve this."
Russell was also disappointed not to win after passing Albon at the final restart.
"Alex was poor on the brakes so I knew I was going to overtake him," he said.
"The opportunity came but unfortunately I couldn't open up more than a little bit of a gap.
"Leclerc was so quick on the straight that before I knew it he was down the inside – at least we're fighting for it now, but I think the win was there for us."